Academy of Biomedical Sciences
Empowering Tomorrow's Biomedical Science Professionals Today
Whether discovering new cancer treatments or teaching healthy lifestyle choices to their communities, today's biomedical science professionals are tackling big challenges to make the world a better place.
MGM's Biomedical Science students are taking on these same real-world challenges – and they are doing it before they even graduate from high school. Working with the same tools used by professionals in hospitals and labs, students engage in compelling, hands-on activities and work together to find solutions to problems. Students take from the courses in-demand knowledge and skills they will use in high school, on any career path they take, and for the rest of their lives.
Learning and Growing by Investigating Medical Mysteries
Working with the same equipment and tools used by lab professionals, MGM's Biomedical Science students are empowered to explore and find solutions to some of today's most pressing medical challenges. Through scaffolded activities that connect learning to life, students step into the roles of biomedical science professionals and investigate topics including human medicine, physiology, genetics, microbiology, and public health. Students work together in teams to find unique solutions, and in the process, learn in-demand, transferable skills like critical thinking and communication.
The MGM Biomedical Sciences Academy is a Project Lead The Way affiliate and uses a national curriculum written by physicians, nurses, researchers, and experts in the many and various fields of medicine. Our program follows three consecutive courses: PBS, HBS, and MI. The courses carry an Honors weight credit and are taught as such. In order to be successful in the Biomedical Sciences Academy and in college, it is expected that students take and excel in the following science classes along with the Biomedical Science classes: Biology, Chemistry, Anatomy & Physiology, and Genetics. AP Chemistry and Physics are other options for those who plan to become physicians or physical therapists.
Principles of Biomedical Sciences (PBS)
In the introductory course, students explore concepts of biology and medicine to determine factors that led to the death of a fictional person. While investigating the case, students examine autopsy reports, investigate medical history, and explore medical treatments that might have prolonged the person's life. The activities and projects introduce students to human physiology, basic biology, medicine, and research processes while allowing them to design their own experiments to solve problems.
Students examine the interactions of human body systems as they explore identity, power, movement, protection, and homeostasis in the body. Exploring science in action, students build organs and tissues on a skeletal Maniken®; use data acquisition software to monitor body functions such as muscle movement, reflex and voluntary action, and respiration; and take on the roles of biomedical professionals to solve real-world medical cases.
Medical Interventions (MI)
In the final course, students follow the life of a fictitious family as they investigate how to prevent, diagnose, and treat disease. Students explore how to detect and fight infection; screen and evaluate the code in human DNA; evaluate cancer treatment options; and prevail when the organs of the body begin to fail. Through real-world cases, students are exposed to a range of interventions related to immunology, surgery, genetics, pharmacology, medical devices, and diagnostics.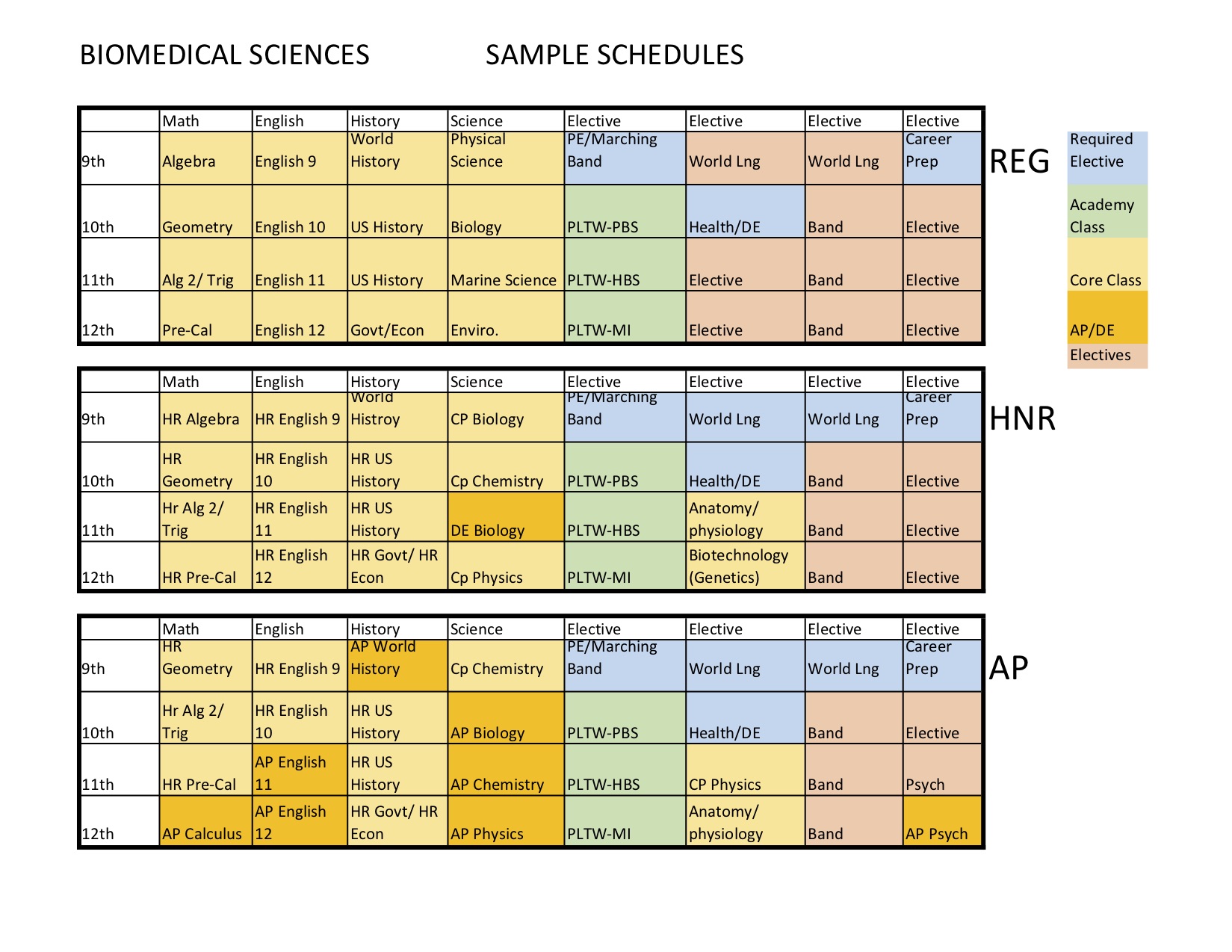 Academy of Biomedical Sciences