Graduation Ceremony Information
Graduation for the MGM Class of 2020 will be held at Ladd Stadium on June 1, 2020. Due to the unique social distancing situation we are facing, two ceremonies will be held. One ceremony will take place at 9:30 am and the other will be held at 1:30 pm. Gates to the stadium will open one hour prior to each ceremony.
To ensure the safety of our students, families, and distinguished guests, students and guests MUST WEAR A PROTECTIVE FACE MASK. It is the responsibility of all guests in attendance to provide their own mask. MASKS WILL NOT BE PROVIDED TO ANYONE OTHER THAN MEMBERS OF THE GRADUATING CLASS. If anyone tries to enter the stadium without a mask, THEY WILL BE TURNED AWAY.
Tickets will be scanned at each ceremony and tickets that are not for their specific ceremony will be denied entry by Mobile Police Department. Unused tickets may not be given, shared, or sold to others because groups larger than 5 will be separated by Mobile Police.
Everyone, no matter what age, will need a ticket for entry.
Online Registration for School 2020-2021
Online registration is open for the 2020-2021 school year! To register, go to https://www.mcpss.com/registration and choose one of the following: Returning Students (for a student who has attended an MCPSS school) or New Students (for a student who has never been enrolled in an MCPSS school). You will need to update all information regarding your student and complete registration. The login username and password were provided with the packets brought home/mailed the week of March 16th. The password is reg2021 for all students. However, if you need your username you can email: bmiller@mcpss.com, treed5@mcpss.com, or bchunter@mcpss.com. If you had a change of address or are coming from a middle school, 2 proofs of residence should be submitted to one of the email addresses listed above or placed in the school dropbox. The dropbox is a black box located across from the main canopy entrance of the school. If you submit your proofs of residency using the dropbox, the proofs must be in a sealed envelope with the student's full legal name and grade level.
All students should be registered before June 1, 2020.
Enrollment Assessment Instructions
If you do not have 2 proofs of residency in the guardian's name, please follow the instructions in the letter below. If you have any questions, email
bmiller@mcpss.com
.
Mary G. Montgomery High School
Mary G. Montgomery is dedicated to producing people of Purpose, Integrity, High Moral Standards and Intellectual Curiosity. Our students will be prepared for life's challenges through close interaction with a caring school staff. We maintain our commitment to excellence by providing an atmosphere conducive to learning in a safe, supportive environment whereby students and school staff are empowered to achieve the ideals of scholarship and leadership.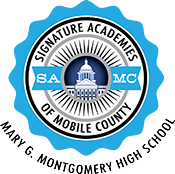 Academy of Agricultural and Mechanical Science

Academy of Business Leadership

Academy of Liberal and Fine Arts