Mary G. Montgomery High School
Mary G. Montgomery is dedicated to producing people of Purpose, Integrity, High Moral Standards and Intellectual Curiosity. Our students will be prepared for life's challenges through close interaction with a caring school staff. We maintain our commitment to excellence by providing an atmosphere conducive to learning in a safe, supportive environment whereby students and school staff are empowered to achieve the ideals of scholarship and leadership.
STUDENTS -- Please take the Fall Culture and Climate Survey. Click HERE.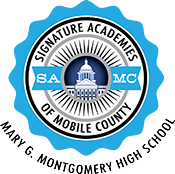 Academy of Agricultural and Mechanical Science
Academy of Business Leadership
Academy of Liberal and Fine Arts