Join S.W.A.T.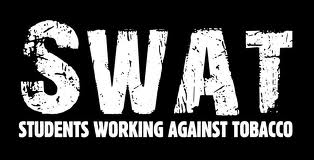 ---
We are now accepting S.W.A.T. applications for the 2020-2021 school year. S.W.A.T. is a student organization that works in conjunction with Mobile County Health Department to bring awareness of the effects of tobacco use in the community. Students act as peer educators working with grades 4-8 in the classroom and bringing awareness on campus. Each visit helps to increase awareness in our community as a whole. We seek well-rounded individuals that are up to the challenge of being a school and community representative working for change.

Please check grade level groups for the application or click below. Students may also email Ms. Holliman for a copy of the application. Applications are due 11/20/2020.

S.W.A.T. members are expected to maintain a 2.5 GPA, a positive attitude, and to be prepared to live the lifestyle they present to the students that they mentor daily.

If you have any questions, please contact Ms. Holliman.