Driver Education Summer Course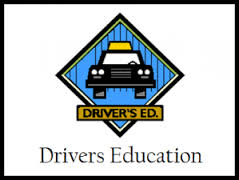 ---
Your child will receive 1/2 school credit if they complete the course. Driver Education develops understanding of and adaptation to traffic in terms of knowledge, attitudes, and skills. The course includes a study of traffic safety for pedestrians and drivers, as they are involved in physical and man-made laws, enforcement agencies and policies, traffic psychology, automobile purchasing, insurance, budgeting, consumer mechanics, and traffic engineering.
Driver Education develops a sense of civic responsibility and an attitude of personal mechanics, and traffic performance. Classroom instruction will be provided via Google Classroom.
Behind the wheel experience in a dual controlled automobile is provided during the course. Driver Education develops knowledge, habits, and skills related to learning to stop and start, to shift, to steer, to make right and left turns, to drive in traffic, to complete turnabouts, and to park.
Development of attitudes basic to accepting civic responsibility in traffic and to the safe operation of the automobile are stressed. For those students who do not receive simulation training, behind the wheel training will consist of the dual-controlled automobile use for three to six hours of driving. For students who receive simulation training, behind the wheel training will consist of one to three hours.
This course provides both classroom and actual driving experiences. A maximum of six hours of behind the wheel driving time is provided. Instructors are qualified to 3rd party test students that are ready to take their ALEA Driving Test. Students will be tested at instructor's discretion.
June 3rd, 2021 on the MGM bus ramp. Registration will be from 8:00-12:00pm. A parent/guardian must be present at registration to sign paperwork. First 48 students will be allowed and must have their Learner License. For preregistration questions please contact Coach Neal. No pre-registration is complete until payment has been received and you receive a confirmation email.
Session 1 & 2 combined:
June 7th - July 8th, 2020.
Mandatory online classroom session via Google Classroom June 7-17.
(No Fridays, ALL Classwork must be completed with a score of 60 or higher to move on to driving session)
Driving group 1 - June 21st, 22nd, 23rd, 24th, 28th, (June 29th Makeup)
Driving group 2 - June 30th, July 1st, 5th, 6th, 7th, (July 8th Makeup)
Prices are set by the Mobile County School board.
Mobile County Residents = $175 Out of County Residents = $300
(ex: Washington County, Baldwin County, George County Mississippi)
Checks, Cash, Money Orders, and Credit Cards are accepted. Checks made payable to MGM.
Barry Hightower- Instructor
Tneal@mcpss.com
251-591-0426
251-221-3153
251-221-3162